Description
Developmentally appropriate tool
With its unique, simple, and versatile design, the alphaTUB facilitates a language learning experience that molds itself naturally to match the child's learning capabilities. As the child progresses, the learning content also progressively grows in complexity to match the child's level of learning.
Dynamic Content, Engaged learning
Never run out of new content to keep your child engaged and interested. alphaTUB's versatile designs allow the child to learn from unlimited content. It is even possible to include their favorite concepts and pastimes into their education by extracting
Eliminate Screen time
Research has proven that exposure to digital media for young children should be limited and heavily moderated. Learning from behind a screen is lacking in many ways as compared to hands-on experience. Reliance on digital media is not only insufficient, but also addictive, and substantially damages a child's receptivity and comprehension of the physical world. The alphaTUB board is a traditional alphabet pegboard that has been redesigned to accommodate an endless learning experience without the necessity of digital media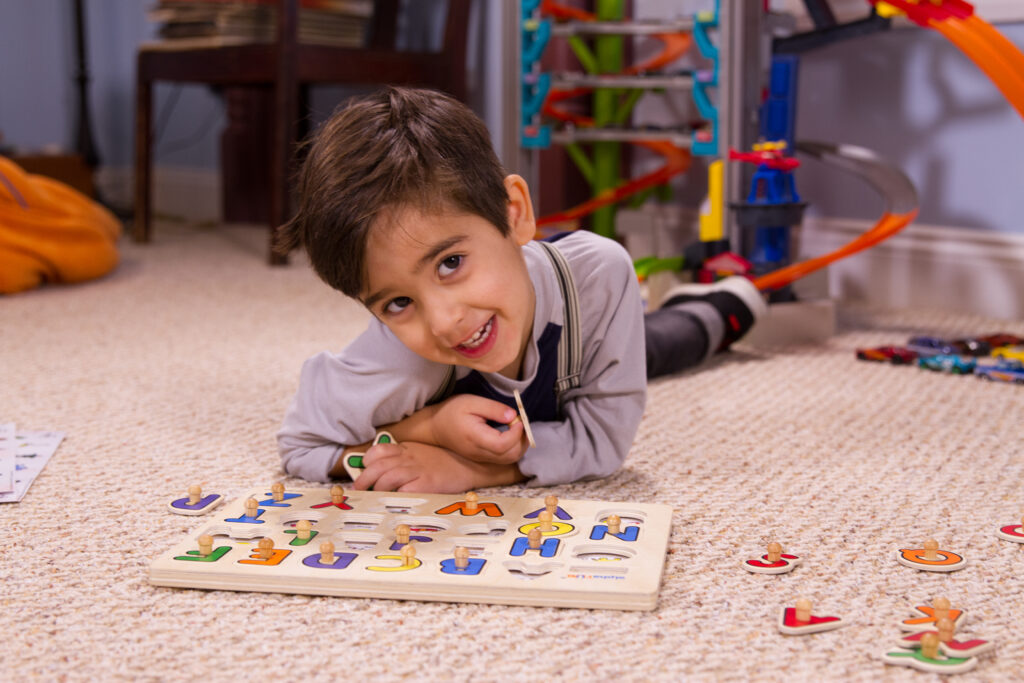 Language is generally perceived as the written and spoken word. However, Language is so much more. The simplest form of language is the alphabet. Each letter of the alphabet has a unique shape, sound, and a set of rules associated with it. These letters are then combined to form words directly associated with meanings or tangible objects. Language is truly experienced only through the combination of our senses as well as logic and critical reason. Language is a combination of sounds in association with words that correlate with tangible objects, actions, and critical comprehension of our lived experiences. As we can see, language is deeply connected with imagery and the visual and physical experience of the real world.
alphaTUB brings to you, the traditional alphabet pegboard, reinvented to fit limitless imagination. The unique yet simple design of alphaTUB allows educators to introduce endless dynamic learning content, keeping the child engaged with the best learning content suited to their needs.  marking the beginning of an engaging and immersive language learning experience.
The content displayed on the board can be conveniently changed by simply swapping the TUB Sheet with a new one to progressively introduce new words to the child's vocabulary. Learning with the alphaTUB Board enables the child to steadily and progressively develop their vocabulary with new sheets with newer words of increasing complexity as their language skills develop and mature.
Who Can Use alphaTUB